TODDLER PROGRAM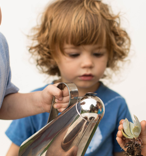 Spark Montessori offers a Toddler Program for children aged 15 months through 3 years old which is run by a Montessori credentialed teacher. Unlike many toddler programs, Spark Montessori mixes the ages in our toddler classroom so that children benefit from learning from their peers, there is greater consistency at this young age, and more opportunity to bond with their teacher over a longer period of time. A major focus in the toddler program is to support the child's natural drive towards building independence, self-discipline, and social skills through practical life activities, grace and courtesy lessons, and the use of hands on Montessori materials. The toddler program also features extensive use of the abundant outdoor space of Horner Park for a greater connection to nature and the development of gross motor skills. The Toddler program establishes a strong foundation for children so that they may take full advantage of Spark Montessori's Primary Program as they get older.




PRIMARY PROGRAM
Spark Montessori's Primary Program is the core to a Montessori education and is designed to meet the unique needs of children aged 3 through 6 years old. By this age children are quite literally constructing the person that they will one day become and are driven to explore and understand the world around them through their five senses. The classroom environment is rich with hands on, sensory based works across multiple disciplines such as Practical Life, Math, Language, Culture, and the Arts. Additionally, great emphasis is placed on creating a warm community culture that operates like a Children's House and provides ample opportunities for children to learn social and emotional skills. A Montessori credentialed teacher coupled with this unique environment are able to support the needs and interests of each individual child thereby nurturing and protecting the natural love of learning that all children have. Children come out of the Primary community with a concrete understanding of Math and Language that forms the foundation for abstract learning in the future.
We invite you to explore more about what makes Spark Montessori special for your children.